Transistor Mica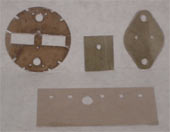 The Electronics Industries has a great use of Mica washers and insulators for both electrical and heat insulation. These various shapes of transistor Mica can increase the efficiency of products due to the excellent properties of Mica.
MicaDisc

Mica Disc provides the best protection to circular viewport glasses and perfect visibility for checking the degree of combustion and liquid level in high pressure steam boilers. It is also used in breathing apparatus, communication devices, fuses, geiger counters, broadband waveplates for optical instruments, etc.
Mica Washers

Natural Mica Washers are circular punched and stamped natural mica parts with round openings in the center suitable for electrical and electronic applications.
Such natural mica washers can also be bonded into considerable lengths with shellac, epoxy or silicone binders to form a solid roll which is then called Bonded Mica Washers. Maximum use is in railways and grid resistors.
Based on customer specifications, Mica washers can be punched, stamped and/or machined into different sizes, shapes and thickness for various temperature ranges