We provide all types of cut strips, cut circles of big sizes, cut blocks and films for various types of electronic components. Our exports range from the hard-to-find cutgauge glass strips for boilers, big size optically clear mica circles for radar and the microwave-telecommunications industry to the cheapest quality of mica washers.Manufactured mica covers mica-based products such as mica capacitors, micanite sheets, mica heating elements, mica paper, heater mica plates, mica flakes and powder, mica bricks and so on. Muscovite mica is used in the production of all types of manufactured mica.
Our one unit make all types of silvered mica plates and mica capacitors as per MIL specification. RME Electronics Division designs and manufactures the complete line of dipped moulded and transmitting type mica capacitors. These capacitors are manufactured by mounting an integrally formed terminal to the elements and transfer moulding with epoxy resin.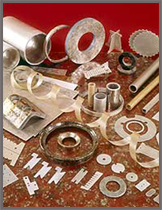 It preserves the excellent quality of natural mica. This design assures both. high reliability and accuracy. These capacitors are compact in size, light in weight, and stable in electrical characteristics, particularly at high frequencies. They are suitable for high radio frequency, power handling capacity, high DC rating and low internal inductances. RME quality is a graded specification covering a variety of case size, capacitance value, capacitance tolerance, operating temperature range and temperature coeffi-cient characteristics. The capacitors covered by RME specifications are intended for operation in high stability low-loss, RF applications such as turned circuit, where radio frequency voltages are low. They may be used under tropical or any other conditions.
The Capacitors are thoroughly tested for
1 Pf value
2 Insulation
3 Voltage withstand
4 Temperature coefficient
5 Tan
6 Vibration