Clampings

Barrel Nut with
Chrome plated M6 x 46

Flange Lock – ½" Height
Terminal Connection
Chrome Nickel Steel Terminal Box

Screw Post Terminals
with Ceramic
Protection Caps
2 Pin Male Plug – 16Amps
Chrome Nickel Steel braid existing
both sides of gap.
Electric Terminal Connections for Band Heaters will be Provided with Chrome Nickel Steel protection caps at center of width either at 1800 opposite the Clamping or 900 from Clamping, unless specified. All Band Heaters above Dia 60mm will be provided with Screw Stud Electric terminal connections covered with Chrome Nickel Steel Protection Caps. All Mica Band Heaters Below 60mm Dia will not have Screw Post Terminals.
Terminal Location
Thermocouple Holes/'U' Slots/Cutout



Normally required for clearance of the thermocouple probes or holding bolts. Oversize gap can in many cases serve the same purpose, using the centre of the gap as a starting point, specify location in terms of degrees and size of the hole or cut-out. Minimum of ½" is required from the hole to the edge of the heater. For critical hole or
cut-out locations, please provide detailed drawing.
All Thermocouple Holes for Band Heaters (if required) will be Provided at center of width either at 1800 opposite the Clamping or 900 from Clamping, unless specified along with drawing.
Note: As far as possible please avoid thermocouple holes. Try and locate them in the heater gap, since holes in the heater body complicates the internal wiring resulting in less heating area and also turns out to be more expensive.
Oversize Gap: The nominal gap between the clamping is 5-10mm. If a larger gap is required for probes or thermocouples, specify when ordering.
Thermocouple Holes location (if required)
Two Piece Construction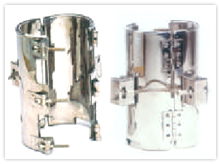 Available on any screw or lead termination or clamping variation. Used on large cylinders or where heaters cannot be slipped over end of cylinders. Two piece Band Heaters are normally rated at half total wattage and full line voltage.
Limitations: Min. I.D. : 3" Min. Width: 1½"
Mica Band Heaters – Variations
Single Phase
Vinman's band heaters are usually designed on 230 Volts single phase unless specified.
Dual Phase
Mica Band Heaters can be designed with multiple circuits to operate in single or dual-phase circuits.